Our Plan to Re-Open the Library
The West Liberty Public Library remains at Service Level 3 (learn more from the Service Level Chart below). The Board of Trustees last met Thursday, March 25, and will continue to re-evaluate the level at which the library will be open to the public during this Covid-19 Pandemic. While we hope to always be moving forward, should the pandemic grow worse after we change to a higher service level, we will revert back as needed.
The following chart is an overview of the West Liberty Public Library's Pandemic Service and Staffing Plan. For the safety of our staff, patrons and most vulnerable community members, the general safety precautions listed below will be adhered to during all phases of a pandemic, until a vaccine or other cure is in place.
Service Level Chart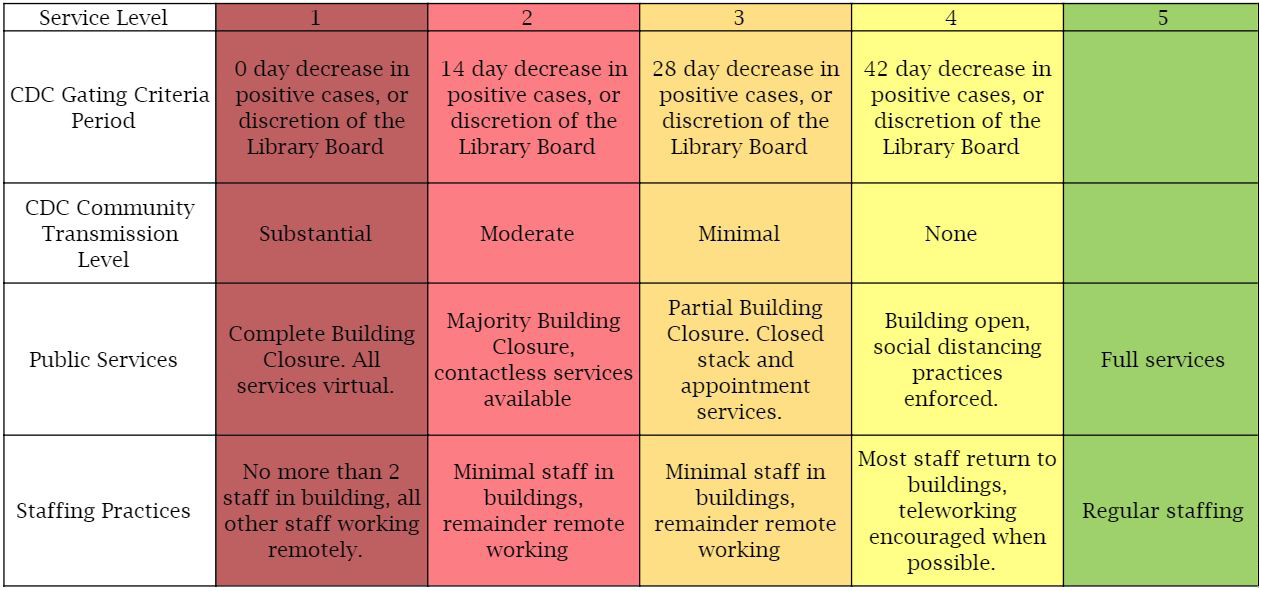 During this time we are prohibiting handshaking and other unnecessary person to person contact in the workplace. We are also suspending the cash handling and will encourage social distancing of patrons while present on the library's property
For a more in-depth look at the different levels of service the library will offer when deemed appropriate by the board, please continue to read on. It is our hope at the West Liberty Public Library to proved as much access as we can to our patrons during this time. However, we will adhere to the specific rules and guidelines laid out by the following guides in order to maintain safety.
Service Level One

1. Internet Access: Continues to provide free and open public wi-fi. Social distancing of patrons utilizing wi-fi will be encouraged via signage.
2. Digital Materials: Will increase the purchasing and promoting of digital materials, including e-books, e-audiobooks, databases, and digital magazines.
3. Cardholders: New temporary cards will be issued to new patrons via web form and email. These new cards will expire after 3 months, unless renewed. Renewal will require photo ID and proof of current address if the library building is open to the public. If the building is still closed, call the library to renew your temporary card for another 3 months. Due dates will be extended until the library building is reopened.
4. Programming: Our programs will migrate to a virtual environment to continue to provide vital connection and learning opportunities for patrons.
5. Physical Materials: Physical materials will be quarantined for enough time, at least 48 hours.
6. Marketing and Outreach: We will continue to pursue options for promoting our available services to our patrons.
7. Physical Location: The library building will be closed to the public during this phase.
Service Level Two


1. Previous Services: Services 1-6 as described in Library Service Level 1.
2. Majority of the building will be closed: security gates will be closed, elevator turned off, all lower level rooms locked.
3. Entryway Service introduced: hold pickups available with 24-hour notice.
a. Patrons may call, email, or message the library with materials they would like to check out.
b. Materials will be gathered, checked out to the appropriate patron, and placed in brown paper bags labeled with a number assigned to that patron when the hold was placed.
c. Holds will be placed in the entryway of the library the day after the hold was placed. Holds will remain in the entryway for 3 days, at which point the materials will be checked in and quarantined.
4. Printing and faxing available by appointment: Faxing will be free of charge. Printing is 10¢ per B&W page, and 25¢ per color page. Patrons with an account get $1 free printing per day.
Service Level Three

1. Previous Services: Services 1-6 as described in Library Service Level 1.
2. Top Floor Open: The upper floor will be open by appointment for browsing and computer use. Materials for all ages will be present and available. Other areas of the library will remain closed, including the youth department, meeting room, and creative space. Requests of materials that are available but not present on the upper level will be available the following day, either through entryway pickup or a scheduled appointment.
3. Seating: Seating will be reduced to encourage social distancing.
4. Restrooms: Restrooms on the lower level will be available for use.
5. Appointments: Each appointment will be available for an individual or a group of up to 5. Groups are defined as up to five (5) individuals who are associated with each other, such as a family or study group.
6. Length of Appointments: Appointments will be limited to 30 minutes.
7. Between Appointments: 30 minutes will be allotted between appointments for sanitization and staff tasks.
8. Walk-Ins: Walk-ins will be allowed if a timeslot is not currently in use by another group.
9. Waiting: Patrons will be allowed to wait in the entryway for their appointment as long as social distancing is maintained.
10. Library Pick Up: Entryway Service will still be available and supervised by a staff member.
11. Face Masks: Face coverings that cover both mouth and nose will be required for everyone over the age of 2 and will be provided as supplies allow.
Service Level Four

1. Physical Building: Limited access to all floors with the implementation of social distancing measures. Groups of more than 10 individuals will be dispersed.
2. Numbers: Capacity limits left to the discretion of the Library Board of Trustees and the Library Director.
3. Computer Usage: Computer use will be restricted to facilitate proper sanitation of computer devices.
4. Special Rooms: The meeting room, video game room, and creative space will remain closed until we return to full services.
Service Level Five
The library will be fully open to the public, all physical materials can be checked out by patrons in the building. Those with "Digital" library cards will need to apply for permanent library cards. Even though the building will be open, the Library Board of Trustees, Library Director, and Staff may continue to implement social distancing and other safety measured if needed. We will begin regular library programming, including book clubs and our Dungeons and Dragons Club. As always, our digital resources will be available to the public.