Library to remain at Phase Two in Pandemic Plan
We're still here for Library Pick Up, printing, and faxing,
but the main building will remain closed
On Monday, Nov. 2, the board of the West Liberty Public Library voted in favor of keeping the building closed due to the rise in cases of Covid-19 in Muscatine County and our surrounding communities.
The Board also modified the library's current Pandemic Plan, which is available to the public via our website. In short, the plan lays out steps towards re-opening the library when deemed safe and appropriate by the library board and its director.
So, as of right now the library will remain at Phase Two, which allows us to provide our patrons with online and front-door services, but keeps the main library closed to the public. We will continue Library Pick Up! We encourage patrons to take advantage of the program. Browse our catalog online at wlpl.org, then give the library a call at 319-627-2084 and we will bag up your books and make them available in our entryway the following day. Oh yeah, printing and faxing are available to anyone that can bring in his/her own device and use it from our entryway.
Our board will continue to meet and discuss our Pandemic Plan. Once we move to Phase Three, we will once again allow patrons to browse the library in small groups. It's a small step forward, but one we hope to take when the time is right. As of right now, we're working on making our library browsable once again when we move to Phase Three.
That being said, we continue our online programming for adults and children. Youth Service Librarian Lily, with help from Brittany Woodson and Rebecca Lara, is putting together several online programs for children. This includes weekly storytimes for infants and toddlers every Thursday at 11 a.m., as well as Five Minute Friday crafts. Both will be available on Facebook and the library's Youtube page. Oh yeah, we're also providing Family Activity Kits for families and children of all ages!
Meanwhile, Booked On Crime will meet on Nov. 12 via Zoom. The book club meets every month to discuss books of crime, passion, and mystery. In celebration of its 100th-anniversary, this month we're reading The Mysterious Affair at Styles by Agatha Christie. Books available for check out through Library Pick Up. Both book Clubs, The Page Turners and Booked on Crime will return in December.
As the British virtual band Gorillaz states in its 2020 release, these are "Strange Times." We thank you for your continued patience and hope the library can be a positive model during this pandemic. We're working hard towards the day that we can see you back in our library again.
---
Eulenspiegel Parade Puppet Making and Drive-In Show
A socially-distanced production by the Owl Glass Puppetry Center
Shenanigans: Animals in Charge on Saturday, September 26 at 7 p.m.
In normal times, this would be the year for the 24th West Liberty Children's Festival, sponsored by Eulenspiegel Puppet Theatre. Unfortunately, the coronavirus has made that impossible, but Eulenspiegel personnel simply can't let the month pass
without some kind of socially distanced community celebration, so they're hosting a parade puppet-making extravaganza followed by a drive-in puppet show!
The parade puppets, a form called "Bottlehead Bobbers", have heads made out of plastic bottles or jugs, fabric draped bodies, and bobbing arms made of baling wire, all mounted on a four-inch dowel rod. Supplies and instructions for the puppets will be available for pick-up at Owl Glass Puppetry Center Sept.14-24 (by appointment). On September 26 at 7 p.m., Eulenspiegel will present Shenanigans: Animals in Charge!
Preceding the show, people who made puppets will parade them around the
fairgrounds to the site of the show.
Shenanigans: Animals in Charge! opens with a parade-size Mother Earth as she introduces us to the zany antics of animals exploring venues that, under normal circumstances, humans dominate. But, as people around the world suspend their normal activities in the face of a world-wide pandemic, the animals take charge! The show transitions from large rod puppets in the early evening to shadow puppets as the sun sets. Imagine penguins visiting an art museum! An alligator cruising a shopping
mall, or goats gone wild! All of the animals' activities are based on actual news reports enhanced and embroidered with the puppeteers' imaginations.
From start to finish the puppets are accompanied by live piano and guitar music with original music written just for this show. This event is made possible by generous gifts from the Roy J. Carver Charitable Trust, MidwestOne Bank, and West Liberty Foods.
If you're interested in participating, either by making and parading a puppet or simply by attending the show, please call 627-2487 or email <monica@pupppetspuppets.com>. You can also let Lilly Smith, Youth Services Director at the West Liberty Public Library, know that you want to participate.
---
West Liberty Public Library receives technology grant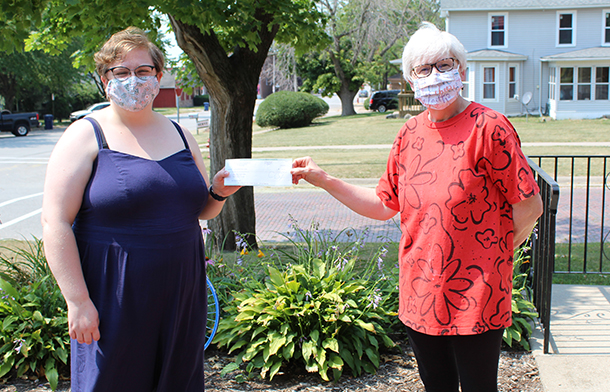 West Liberty Public Library Director Allie Paarsmith receives a $1,200 grant
for youth technology from West Liberty Fund Committee Member Geri Owen.
The West Liberty Public Library received a $1,200 impact grant from the Community Foundation of Greater Muscatine's West Liberty Fund.
The money will be used towards gaming computers and electronics, opening up new avenues for our youth once the West Liberty Public Library opens back up to the public.
"We were excited to get the application and we're glad that the library was one of the recipients," said Geri Owen, committee member.
With this grant, the library will dedicate a space downstairs in the children's area for the computers as part of a larger redesign that is currently in progress for the youth area.
Currently, the West Liberty Public Library is closed to the public, though it now provides Library Pick-up and other services. During this closure, it has been updating many areas of the library.
"We are thrilled to be given this grant to help provide new technological experiences for our younger patrons. This money will go towards creating a more engaging atmosphere at the library," said Library Director Allie Paarsmith.
The West Liberty Public Library strives to be at the forefront of technology, and this grant will allow it to continued its pursuit to be cutting edge.
To learn more about the library, and the physical and online services it currently offers, visit wlpl.org. It is currently providing programming for children and adults online.